Greta - LD45
A downloadable game for Windows, macOS, and Linux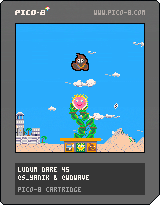 This game has be made for Ludum Dare 45 : "Start with nothing".
You're the Spirit of the Nature. You have nothing and should collect with the appropriate tool droplets of water, sun and earth to feed the plant.
Use arrows to move and [x] key to change the current tools.

Could you help Greta* to grow?
(* the name of the flower)
You can try it in your browser : http://picoscope101.fr/downloads/greta-ld45.html
The picture above is a PICO-8 cartridge (you can play and edit it).
Done by @s_yanik & @wdwave
Install instructions
Download, unzip, select the folder corresponding to your system (linux, mac, raspi, windows) and launch the game...